Want to know how the IELTS Band Score is calculated? Before we begin, let's see what the IELTS test is all about.
The International English Language Testing System or the IELTS test is used to assess the English language proficiency of people who want to study or work in an English-Speaking Country.
It provides an accurate assessment of language skills. Moreover, this test helps to analyze the full range of proficiency levels i.e. from non-user to expert users.
IELTS conducts two tests: Academic and General Training. Among those two, the candidate can choose anyone based on if they want to study or work abroad. Both these tests are divided into four sections i.e. Listening, Reading, Writing, and Speaking.
The IELTS Band Score is calculated in the following manner:
IELTS results are reported on a 9 Band Scale.

There is no pass or fail in IELTS.

Each level on the 9-band scale corresponds to a level of competence in English.
All parts of the test and the overall band score are reported in half or whole bands. Example: 6.5 bands or 8 bands.
The candidate receives an overall score for their IELTS test as well as individual scores in each module.
The four sections are first scored individually. An overall score is then given based on your performance in these 4 sections.
The grading done for the Listening and Speaking modules are the same for IELTS Academic and IELTS General Training.
However, the grading for the Reading and Writing modules differs between IELTS Academic and IELTS General Training.
That is, in IELTS Academic, the material is given to assess your English Language proficiency at an academic level.
Whereas, in IELTS General Training, the material and grading are done to assess your English Language proficiency using everyday, non-academic English.
Refer to the following table to see how the IELTS test uses a standard scale to assess users accordingly.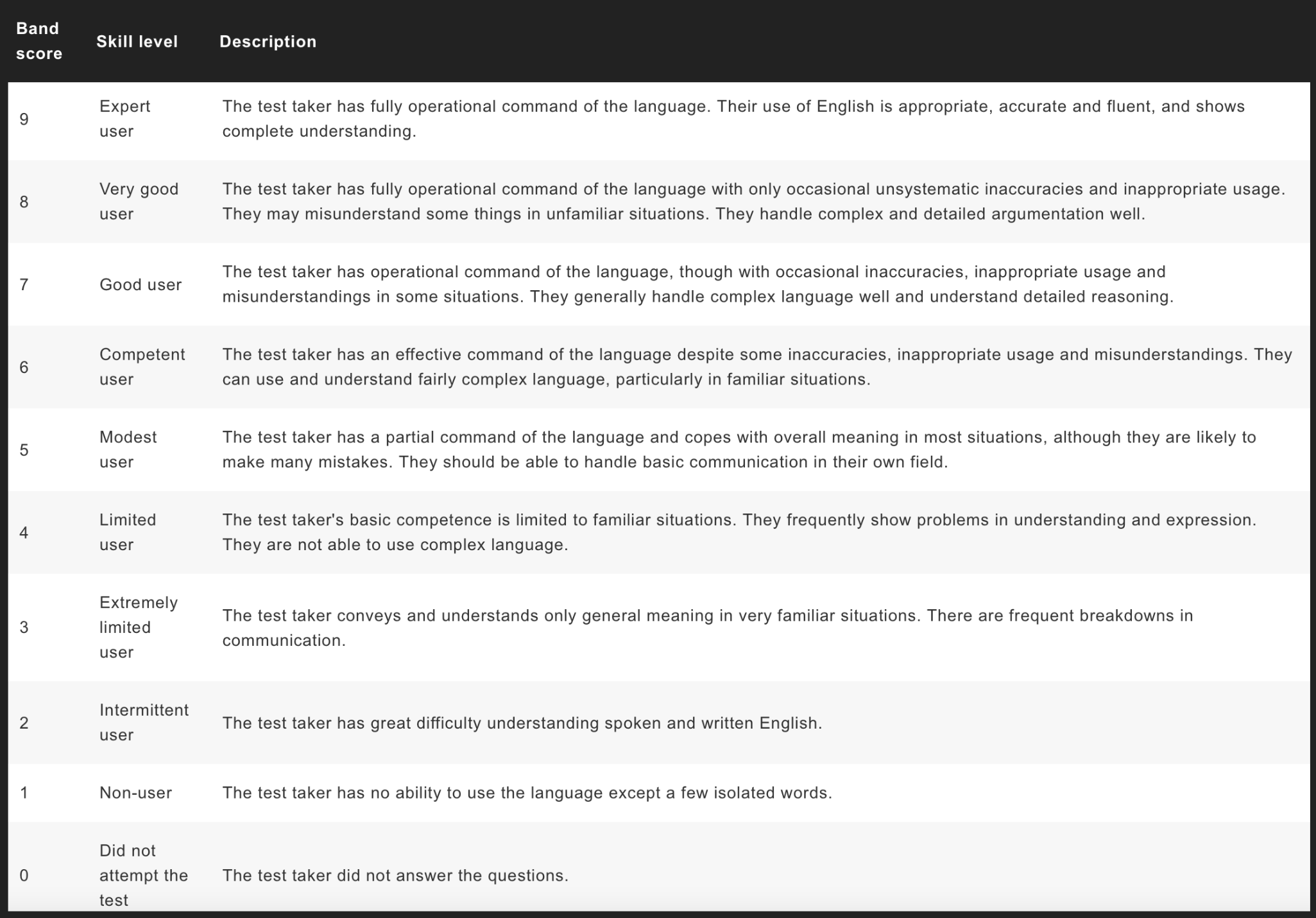 We hope you found this article useful. Do share it with your friends who are preparing for the IELTS exam.